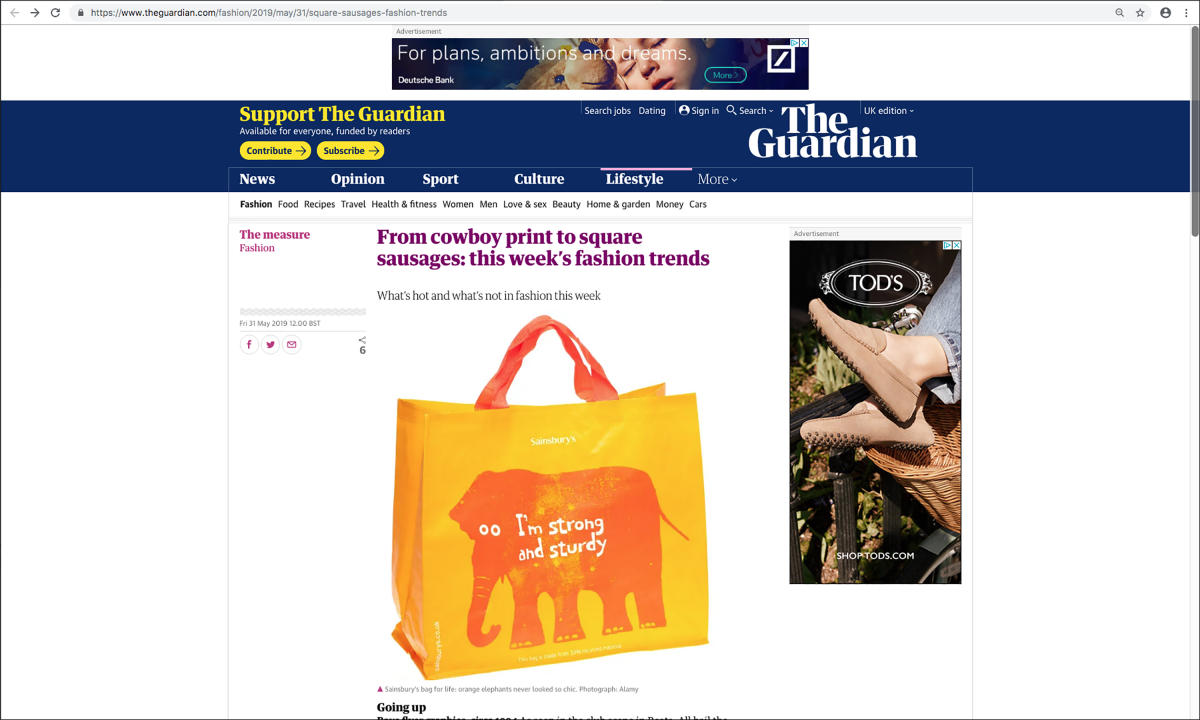 Ten years on – Sainsbury's Elephant Bag appears in The Guardian's 'This week's fashion trends'.
Funny how time flies. I was heartened to see this week that even ten years after I designed them, people still seem to have a place for a Sainsbury's Elephant bag in their hearts and homes. In a recent instagram story global R'n'B star, and queen of image Rihanna – worth an estimated $260million – revealed to the world not only that she was living in the UK but also that she favoured the strong and sturdy Reliabag from Sainsbury's.
Rihanna fans went into a frenzy over a post showing her posing in front of the Elephant bag. Their reactions showed how positively Rihanna's devoted fans viewed this rarely seen down to earth side of her, from "Rihanna and her Sainsbury's bag for life has literally made my day" to "Rihanna owning a Sainsbury's Bag For Life. She truly is one of the people."
The press were quick to pick up on the story, The Guardian and The Daily Mail both reacting independently with gusto. The Guardian featured the elephant bag with the headline "This week's fashion trends – what's hot and what's not in fashion this week." Their comment being that "Rihanna's a fan and naturally, so are we. Orange elephants never looked so chic."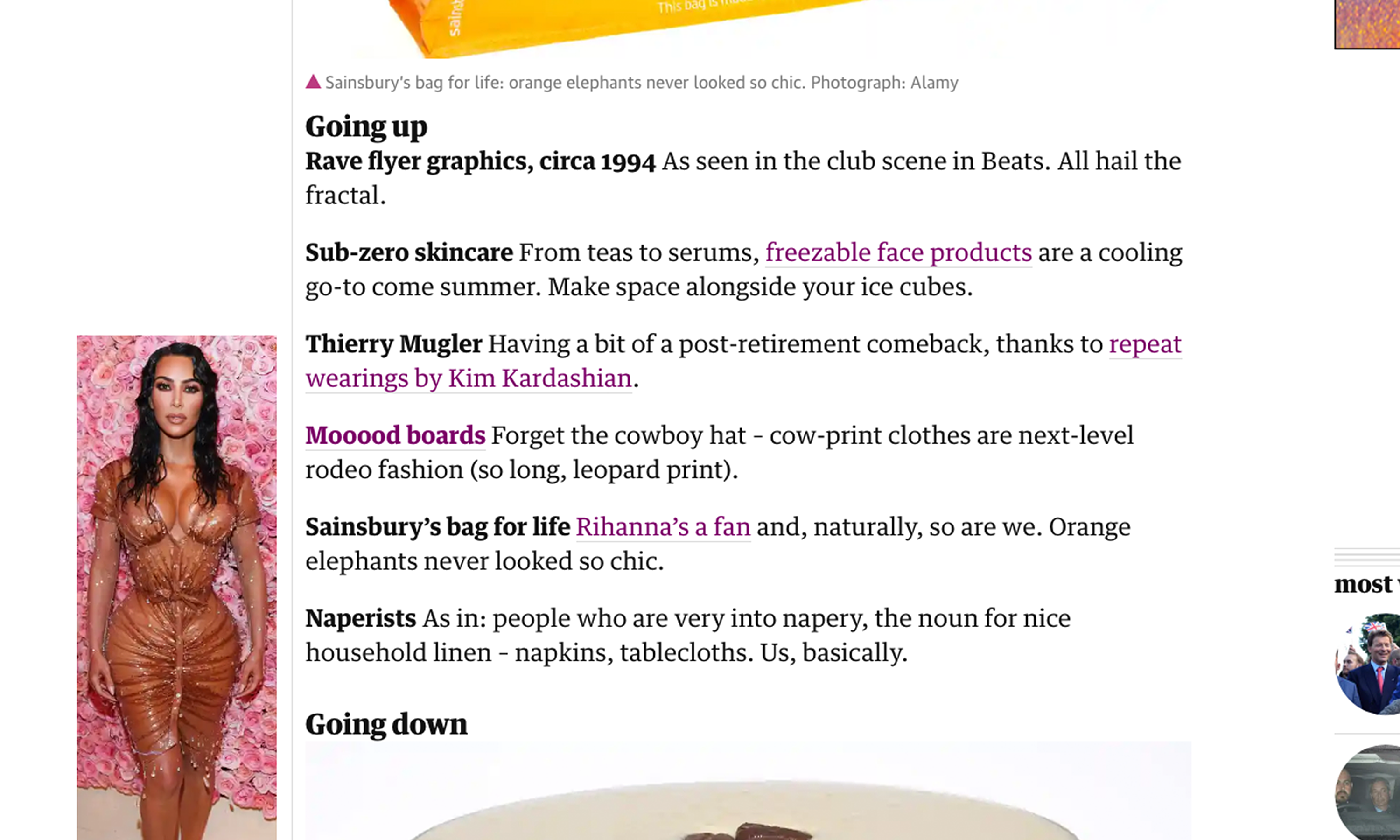 The Daily Mail featured Rihanna in front of her Elephant bag, along with a sequence of Instagram screen grabs showing the range of thrilled reactions posted by her fans.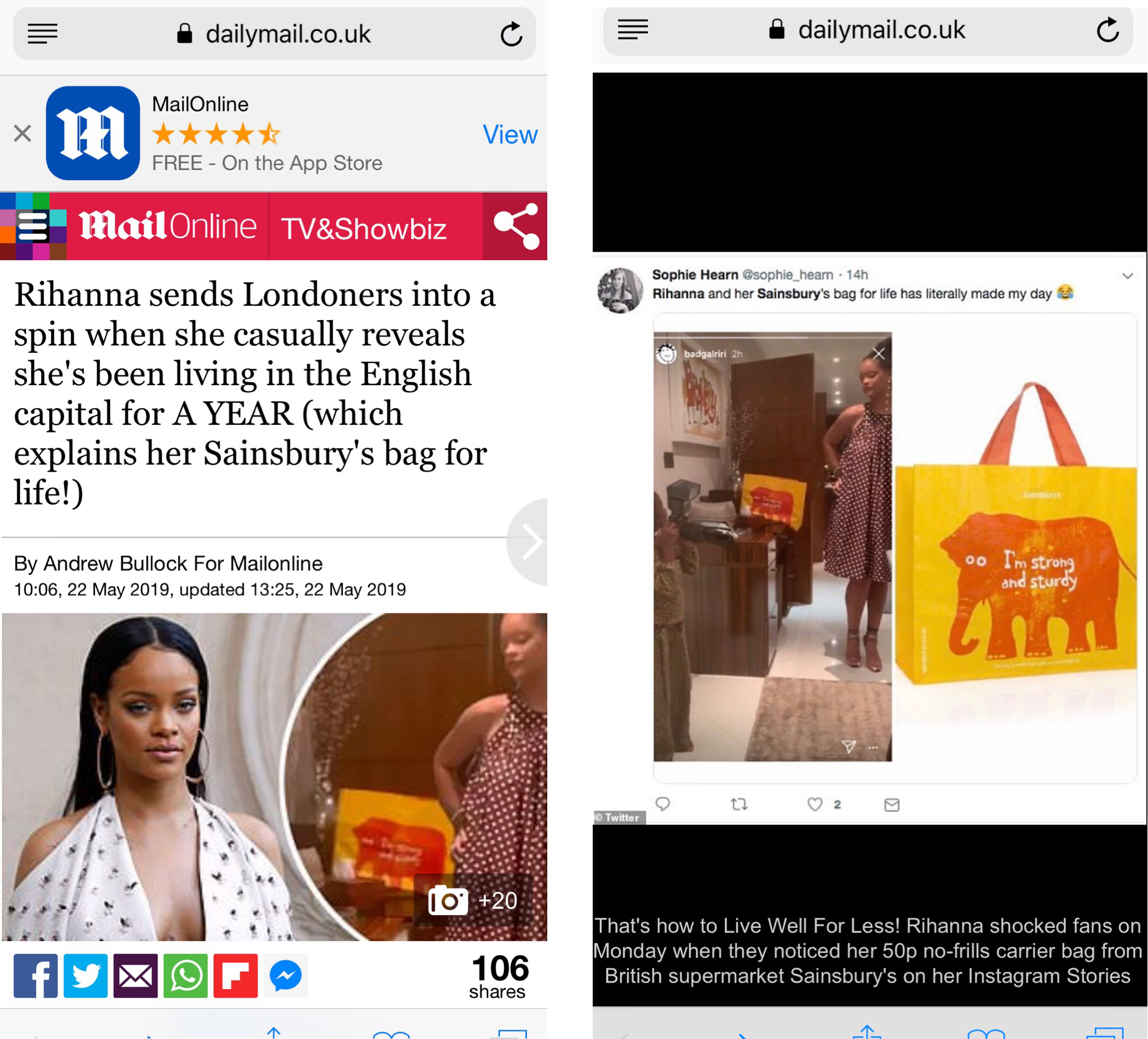 The Metro also ran the story and commented that "On Monday, the 31-year-old revealed that she, too, has a 'strong and sturdy' reusable bag from the British chain supermarket when that familiar tangerine shopper snuck into one of her Instagram Stories."
The Elephant bag was just one of a range of Sainsbury's Reusable Bags I illustrated, copy-wrote and designed to have 'Bags of Personality' and stand out on shelf, whilst working at Lambie-Nairn.
Each bag was designed to reflect its own purpose, but also to cheekily express something about its owner every time they carry one, allowing shoppers to say that today 'I'm Strong and Sturdy' like my Elephant bag, or, 'I keep my cool' like my Penguin cool bag.
Maybe Rihanna was channelling less @badgalriri, more @stronggalriri, the day she posted that remarkable image. The fans certainly seemed to think so.
If you'd like to know more about this project, or if you have a project you'd like to discuss, please do get in touch.
Call Susan Robertson on the number below, or drop me an email.
Telephone
+44 (0)1273 807924